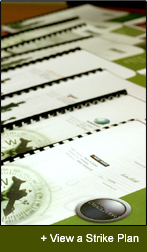 SWOT Management Group (SWOTmg) Sales Intelligence services gather actionable business and IT intelligence about your target markets, industries, partners and/or strategic accounts. We help answer these critical questions:
"How can I better speak the language of my target customers?"
"How can I compete more effectively against my competitors?"
"How do I create efficient go-to-market strategies?"
"How can I reduce marketing/prospecting cycles?"
"How can I find and engage the right channel partners?"
Our approach combines real-time research and competitive strategy recommendations. Research-based approaches statistically result in a 14% return on investment (ROI) compared with the 3% - 5% ROI you can expect for traditional marketing approaches.
Deliverables include:
Attack Plans

»

Strategic Account Attack Plans:In-depth account analysis incorporating business, sales and marketing metrics.

»

Industry Attack Plans:Sector analysis identifying strategic drivers, issues and target companies.

»

Territory Attack Plans:Geographic/regional analysis of business climate, target prospects and potential market opportunities.

»

Target Penetration Strategy Sessions: Face-to-face strategy meetings with our senior research team to develop actionable go-to-market strategies.
Strategic Assessments

»

SWOT3 Analysis:An analysis and assessment of your corporate and competitive positioning, target market and go-to-market strategy.

»

Competitive AnalysisAn intelligence report about specific competitors that combines elements of Strategic Account Attack Plan and SWOT3 Analysis.
List Acquisition

»

We can provide you with a targeted marketing list based on your project needs.
SWOTmg Service Offerings:
Business Planning
Channel Communications
Sales Intelligence