Channeltivity
http://www.channeltivity.com

Channeltivity, LLC is a channel lifecycle management software service company for the technology industry. Drawing on the combined expertise of SWOTmg and Web developer Analog Method, Channeltivity provides a suite of easy-to-use online tools that take Channel Lifecycle Management to the next level. Using these tools, channel organizations can realize measurable gains and a higher return-on-investment through increased and more efficient partner productivity.



Analog Method
http://www.analogmethod.com

Analog Method is a unique web development company that specializes in easy-to-use, user-focused solutions. Our experienced team creates intuitive database-driven Web sites, intranets, extranets and Web applications that meet your company's specific needs. Whether you want to improve communications, manage data, or update content, we help your business achieve these goals efficiently and creatively.



Carideo Concepts
http://www.carideoconcepts.com

Carideo provides wide-ranging graphic design services. From logo creation to Web design, annual reports to presentation materials, product photography to package design, let our professionals provide you with the high-quality innovative marketing material that promises results.



Packer Marketing Associates
http://www.packermarketing.com

Packer Marketing functions as a company's Marketing Director, ensuring a seamless integration of corporate goals with marketing strategy. We offer a best case scenario: an in-house marketing director responsible for return on investment (ROI) without the costs and overhead of a full-time employee.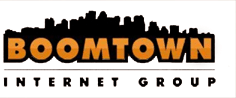 Boomtown Internet Group
http://www.boomtownig.com

Boomtown Internet Group marries art and technology to create, conceptualize and execute Internet marketing campaigns. The two distinct parts of our team, marketing and programming, work together to execute Internet marketing strategies involving social media, Web site design, e-commerce, content management systems, flash animation, and viral marketing.



CompTIA
http://www.comptia.org

CompTIA is a non-profit trade association advancing the global interests of information technology professionals and companies including manufacturers, distributors, resellers and educational institutions.



1NService
www.1Nservice.com

1nService is a vertically integrated organization of high-level network and advanced technology providers. Each office acts as a proven, successful entity alone, but banded together we offer more powerful and professional services for your business technology expansion and implementation. The integration of our expertise brings your business together under one concise vision and direction.