To increase a pipeline of sales opportunities, technology companies need to develop relationships with loyal channel partners.

Given today's complex sales cycle, many have difficulty managing and defining the roles of the virtual team that are required for success. The end result is usually confusion, a high cost of sales, and lack of quality partnering.

Our research indicates that the most profitable corporations in the technology industry have a well-defined channel strategy, a process to recruit loyal channel partners and enable their growth and development and use metrics to measure the field-level engagement required for success.

Many executives are challenged with:
• Increasing Sales Pipeline to Drive Sales
• Finding Marketing Metrics to Measure Success
• Connecting with Loyal Channel Partners to Grow Relationships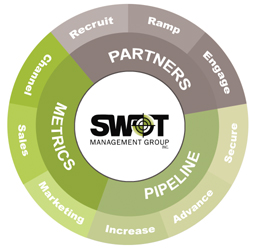 SWOT Management Group (SWOTmg) works with technology companies to integrate and cultivate sales and channel development strategies. These strategies provide the critical support elements of sales, marketing and market intelligence that are necessary for success.

Sales Support: We help our clients overcome their sales development challenges by providing consultative research services that help sales teams enter new markets, target new industries and penetrate new accounts.

Marketing Support: We help marketing departments align with sales initiatives, develop meaningful support tools and elicit a pipeline of opportunities through our researched based lead generation process.

Channel Support: We work with channel teams to recruit the best partners for their solutions, enable those partners with the business planning and practice development tools and strategies needed for success and align the joint executive and sales teams to ignite channel sales through field engagement.